As you may know, Dr. Lynch is very active in the community—both in Harford County and the medical community. Recently he worked with Nina Rickey-Sharek to help her complete the clinical hours needed to become a Nurse Practitioner. After completing her clinical hours and several years of graduate school, Nina is now a graduate of the Columbus State University of Georgia's Family Nurse Practitioner Program.
For the last 15 years, Nina has been working as an RN. She is currently at the University of Maryland Medical Center in Baltimore and has also been a paramedic, flight nurse and spent much of her career as a critical care nurse in the cardiac unit. Nina is looking forward to stepping into a new role as a Nurse practitioner in Palliative care. Palliative care is specialized medical care for people living with a severe illness—many of whom are in hospice care. Nina loves helping people and, after many clinical hours in hospice, looks forward to being able to help people even more now as a Nurse Practitioner.
While his expectations are high, Nina valued her time with Dr. Lynch. Nina feels as if she has learned more in this last rotation with Dr. Lynch than others because of the time spent with patients. Patient time is essential at Lynch Primary Care, and Nina has nothing but high praise for Dr. Lynch and his experience. It just so happens that the feeling is mutual. Dr. Lynch is very impressed with Nina and all she has accomplished. Dr. Lynch has always liked to teach. It was a big part of his early career teaching students, residents, interns, and nurse practitioners. He loves giving back, enjoys working with the students, and admits he learns from every experience. Of all those students, Dr. Lynch admits Nina is one of the sharpest. He thinks she has what it takes to be successful in the field. Nina has strong people skills, a diverse background, and is an outstanding clinician.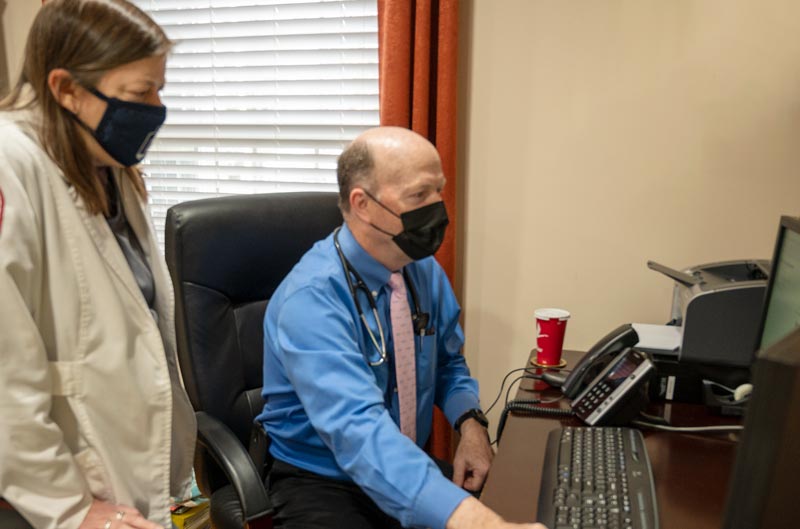 Dr. Lynch Reviewing Charts With Nina